GOANIKONTES OASIS REST CAMP
---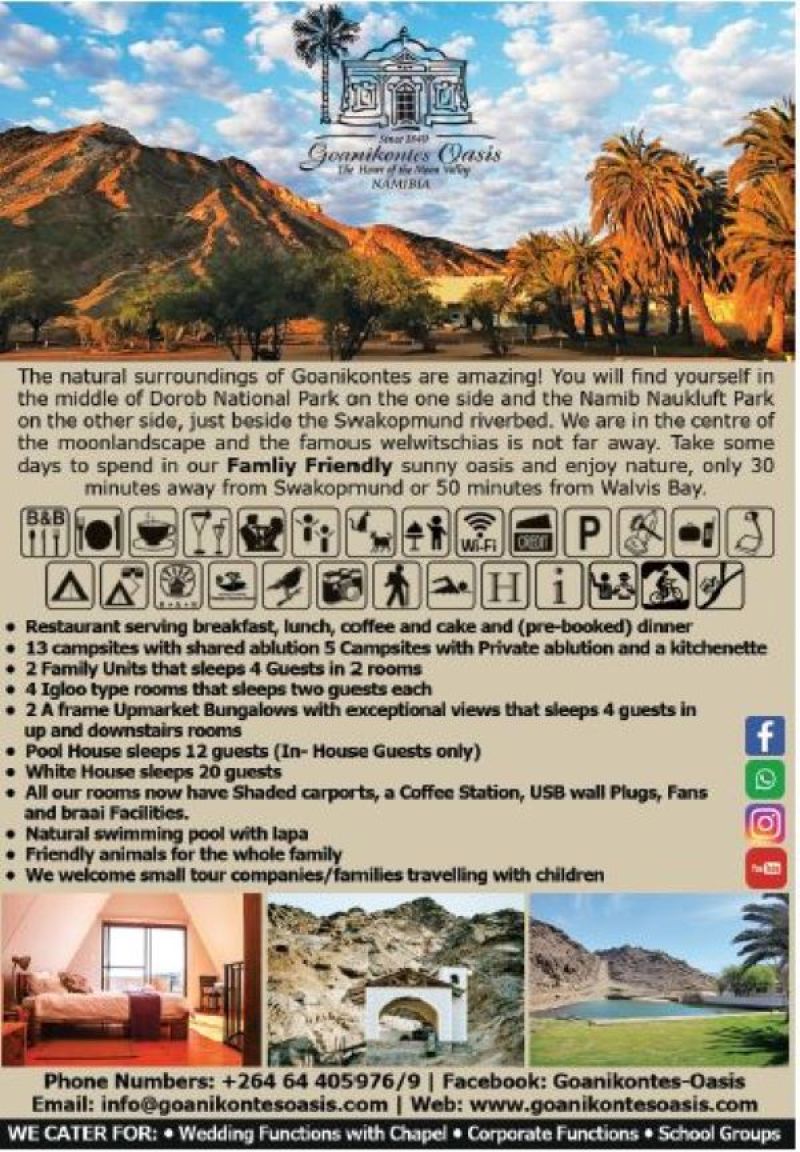 CONTACT:

CATEGORY:
Accommodation: Rest Camp
Goanikontes Oasis , the heart of the Moonvalley



ZONE:
Zone 9: Swakopriver Valley
Zone 57: Swakopmund south

---
The natural surroundings of Goanikontes are amazing! You will find yourself in the middle of Dorob National Park on the one side and the Namib Naukluft Park on the other side, just beside the Swakopmund riverbed. The moon landscape is very close by and even the famous welwitschia is not far away. Take some days to spend in the sunny oasis and enjoy nature, only 30 min. away from Swakopmund town or a 50 min. drive from Walvis Bay harbour.
Campsites:
We have 13 campsites with shared ablution and also 3 Campsites with Private ablution and a kitchenette.
Rooms:
Please Note that all our rooms now have Shaded carports, a Coffee Station, USB wall Plugs and braai Facilities.
We have :
2 Family Units that sleeps 4 Guests in 2 rooms

4 Igloo type rooms that sleeps two guests each
2 A frame Upmarket Bungalows with exceptional views that sleeps 4 guests in up and downstairs rooms
Visit our Goanikontes Restaurant and Goanikontes Activities



22°39'59.8"S 14°50'00.1"E


Send a query via WhatsApp, then Goanikontes Oasis Rest Camp can reply directly to your device.
Your message has been sent.
Copyright: © Where to Stay.
No parts of this website may be reproduced, stored in any retrieval system or transmitted in any form or by any means without the express, written
permission of the publisher. Extreme care has gone into supplying accurate information, however, no liability can be accepted by Where to Stay for any
errors or omissions that may have occurred.
Tel: +264 (0)61 259 293
Fax: +264 (0)61 259 933
info@wheretostay.na